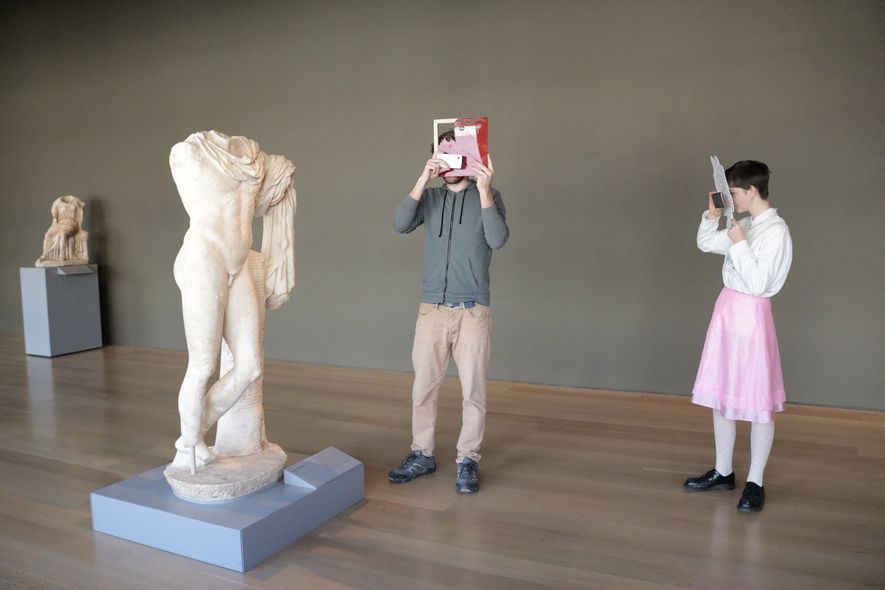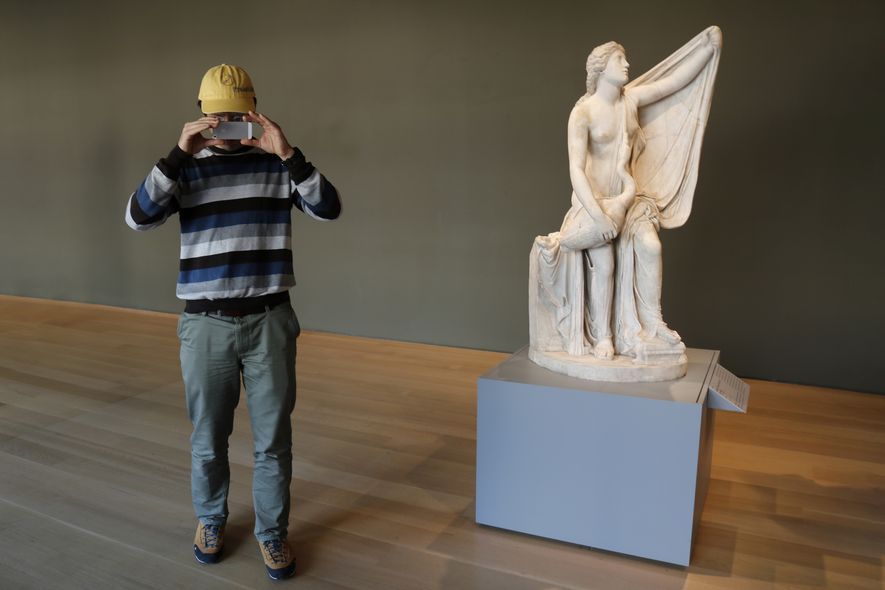 WANDERING MUSEUMS (/Living Sculptures)
//mixed media, masks as virtual reality googles, VR scene displayed on the cellphone of the participants, marble sculptures of the Roman Impire, The Art Institute of Chicago, 2017//

Wandering Museums is an interactive, hybrid work combining virtual reality elements with performative aspects.
Nine VR goggles are provided to the audience, which can be used by the ones willing to participate.
The virtual reality itself is a compilation of images of different archiving facilities or common displays for the arts (pedestalals, shelves, stages, theater equipment, boxes etc.) and scanned details of the building of The Art Institute of Chicago. The VR is visible through the goggles and accessible with smartphones through internet connection.


The goggles are in form of different masks, the motives of which are related to cultural history and especially to that of sculpture. The chosen motives are related to a broad sence of virtuality:
PYGMALION the mythic sculptor, IANUS the two-faced roman god, BERNINI'S MEDUSA BUST (about which he famously told that he turned the living creature into stone that could turn men to stone), SIGMUND FREUD, FRIDA KAHLO'S SELF-PORTRAIT WITH MONKEY, the script of the Rosy the Riveter poster: WE CAN DO IT (that transpassed several stages from propaganda, to feminist slogen or to being the "most over-exposed" souvenir item), two variants: a porcelain mask and a sandwich-man version of the HEAD OF A MAN, PERHAPS A PHILOSOPHER sculpture with its label (describing that it is not possible to decide whether the sculpture depicts a philosopher or someone disguiesed as one) exhibited in The Art Institute of Chicago and a TIME Magasine cover from 1961: MAN IN SPACE.


There are two different sides of this work: 1. the virtual reality displayed on the smartphones only visible for the partcipants wearing the masks, 2. the site performed by the masks, the bodies of the participants, the surroundings (in this case the architecture of the Art Institute with the roman marble sculptures) and the relationship of all of these - which is unvisible during one wears a mask.



Parts and of the VR scene:
https://sketchfab.com/Mezzanine
and
RENDERS
List of the roman sculptures of the Art Institute Chicago visible on the photos:
A Marble Figure of a Young Satyr wearing a Theater Mask of Silenus, Roman Imperial, circa 1st Century AD, unknown sculptor, with restorations by Alessandro Algardi, 1628
Portrait Head of a Philosopher, second half of the 2nd century AD, Roman Imperial, unknown sculptor
Statue of Meleager, Roman Imperial, 1st/2nd century AD, unknown sculptor
Portrait bust of the emperor Marcus Aurelius, Roman Imperial, 170-180 A.D., unknown sculptor
Portrait bust of a woman, Roman Imperial, mid 2. century A.D,, unknown sculptor
Statue of a seated woman, Roman Imperial, 2nd century A.D, unknown sculptor
Statue of Aphrodité of Knidos, Roman Imperial, 2nd century AD, Praxiteles
Leda and the swan group, Roman Imperial, 1-2nd century AD, unknown sculptor